Afghanistan security forces arrested Ghazni's governor and his deputy after they fled the city.
Ghazni is on the major Kabul-Kandahar motorway, linking militant strongholds in the south to the capital, Kabul.
Taking Ghazni is thought to increase the likelihood that the Taliban could eventually aim to take Kabul itself.
Almost a third of the country's 34 provincial capitals are now under Taliban control.
In Ghazni, a provincial council member told the BBC that the Taliban had taken most of the city, with only a police base on the outskirts controlled by the Afghan security forces.
Heavy fighting was also reported in the city of Kandahar on Wednesday. The Taliban claim to have taken over the city's prison, though this has not been confirmed.
In the southern city of Lashkar Gah, the capital of Helmand province, militants have taken over the police headquarters.
More than 1,000 civilians have been killed in Afghanistan in the past month, according to the UN.Just this week thousands of people from northern provinces have become internally displaced, travelling to Kabul to seek safety.
Makeshift camps have been established on scrubland on the outskirts of the capital, while many others have reportedly been sleeping on the streets or in abandoned warehouses.
In response to the insurgency, the German government has threatened to end its annual financial support of $500m (£360m) to Afghanistan if the Taliban gains complete control of the country.
Germany has also suspended the forced repatriation of Afghan citizens whose asylum applications have failed. The French government says it is also following the same policy.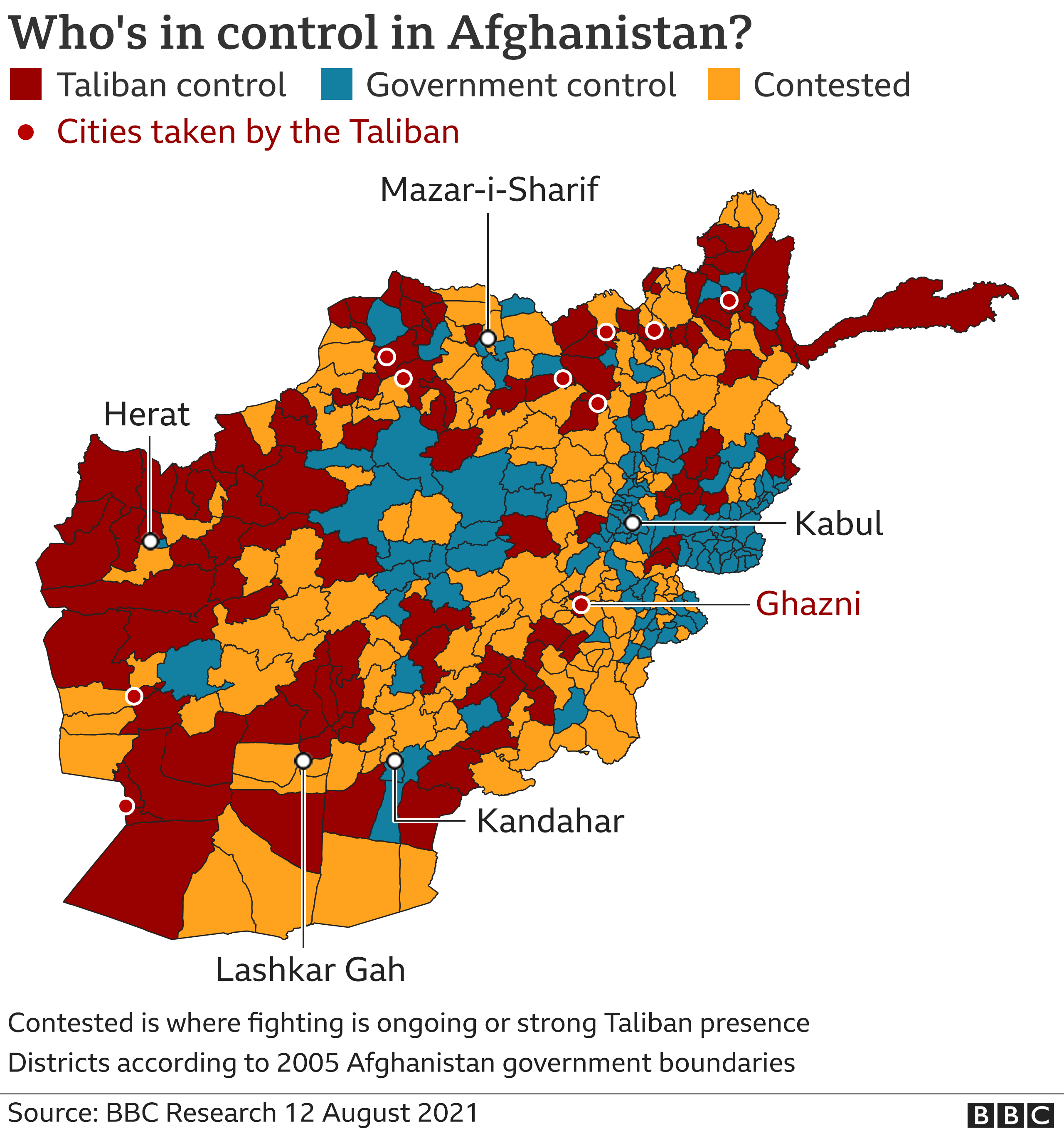 On Wednesday, Afghanistan replaced its army chief, General Wali Mohammad Ahmadzai, who had only been in the post since June.
Mazar-i-Sharif lies close to the borders with Uzbekistan and Tajikistan, and its loss would mark the complete collapse of government control over northern Afghanistan.
President Ghani held crisis talks in Mazar-i-Sharif with ethnic Uzbek warlord Abdul Rashid Dostum and prominent ethnic Tajik leader Atta Mohammad Noor about defending the city.